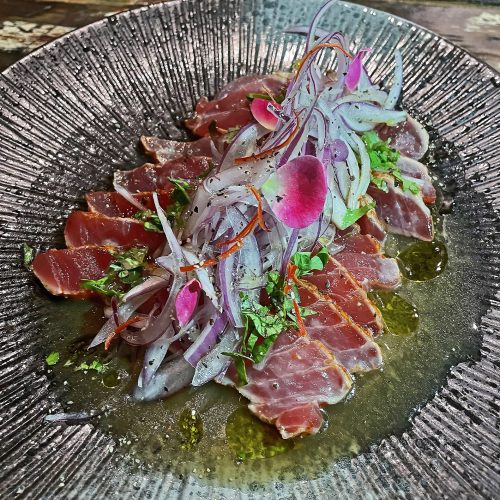 Bad Mama Gemma lived in Japan - which is where the inspiration for this dish comes from. We start with a plump, succulent slab of fresh Tuna sashimi, then we roll it in spices and ever so gently sear the outside. Then we thinly slice it & drizzle it with our home made Ponzu sauce & freshly cut chilli & Herbs, Superb!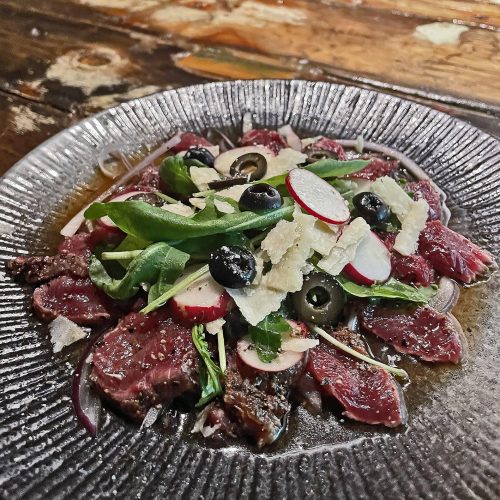 This is the Companion Dish to the Tuna Tataki - only it's Beef! We start with Prime, melt-in-mouth Fillet Beef - which we then ever so gently sear the outside. Then we thinly slice & serve it with a crisp Mizuna salad, freshly sliced Parmesan Cheese, Olive slivers & home made Yuzu Ponzu Sauce. Sensational.
Quite possibly the best Sashimi ever. Bad Mama being located right in the middle of one of the best Fish Markets in Taiwan has its advantages. Fresh Sailfish Sashimi is drizzled with Truffle Oil, our home made Yuzu Ponzu Sauce, and sprinkled with fresh Dill & served around a small Salad. Amazing.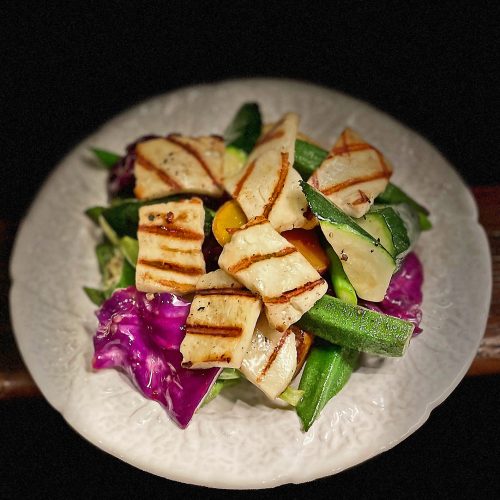 Grilled Halloumi Cheese is a taste & texture sensation for your tastebuds. We place the cheese on top of some grilled fresh seasonal vegetables - usually Okra, Snow Peas, Red Cabbage & whatever else is currently fresh from the markets - drizzled with Balsamic Vinegar & fresh citrus juice. Yum!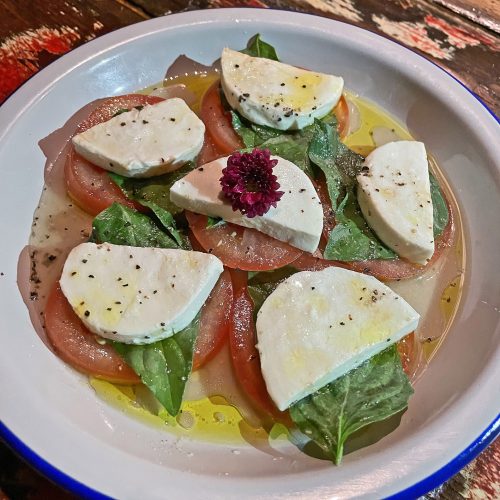 We get plump, ripe tasty tomatoes from the markets, then slice & top them with generously thick cut slabs of Mozzarella Cheese & fresh Basil leaves, then drip them with Balsamic Vinegar, freshly squeezed Lemon Juice & a sprinkle of salt & pepper. It's addictive.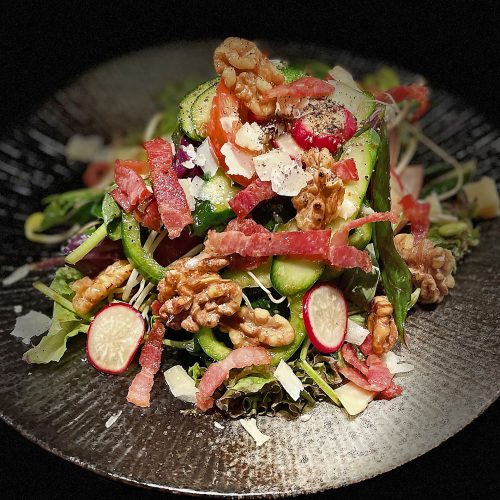 BACON WALNUT SALAD WITH PARMESAN CHEESE
This is a big, crispy crunchy tasty gift to your mouth. Crispy bacon, pan fried walnuts & fresh salad greens all combine for texture heaven. Add in some freshly grated parmesan cheese to tickle your tastebuds even more. This salad is a little bit naughty (bacon) & it's a little bit nice (salad). At Bad Mama we believe in moderation in all things - including moderation!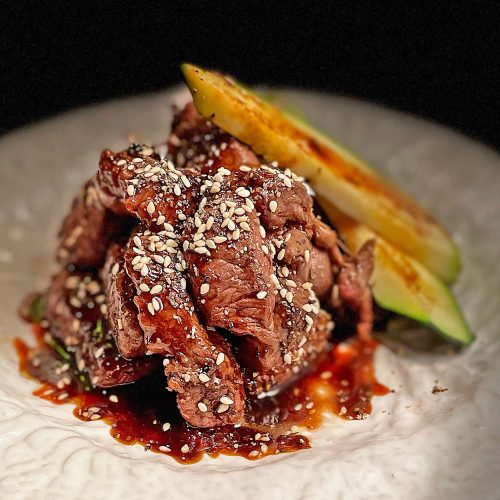 This is Bad Mama's legendary signature famous dish from Australia. You start with a great piece of Fillet Beef - which is then meticulously cleaned of excess fat & then lightly seared in it's own juices, before adding in our home made soy butter sauce. It's melt-in-mouth yum.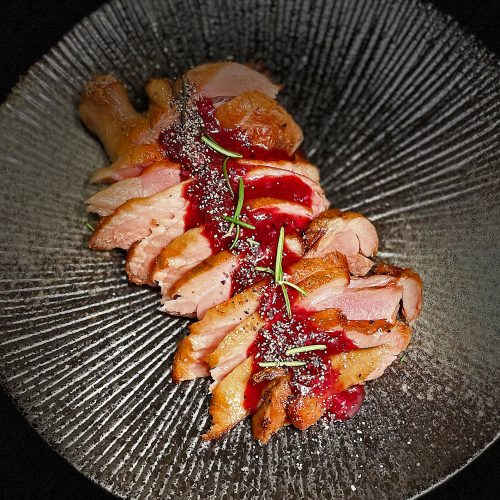 This luxurious dish was born in France ~ @ Bad Mama we recreate to the next Delux. We take a fresh whole Duck Breast & marinate it in duck fat & spice, before slow cooking it in our oven. Finally we snap BBQ it before adding a generous dollop of home made Red Wine Cranberry Sauce and a sprinkle of fresh Rosemary. Delicious.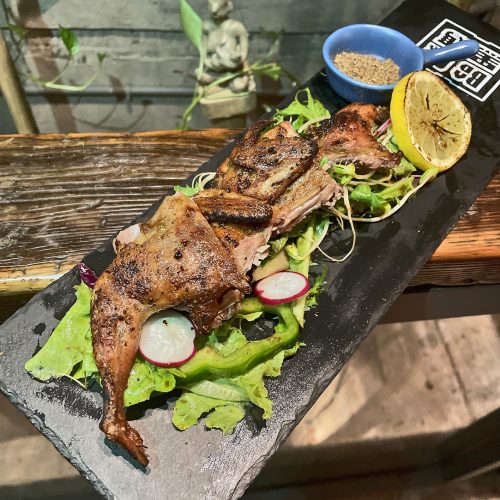 CHARCOAL GRILLED QUAIL SALAD
We love the "Little Bird". Especially when it's grilled & served on a fresh green crispy salad with spicy Sichuan Red Pepper salt & a squeeze of lime juice. We recommend picking up with your hands and chewing every last morsel off delicious meat off the bones. Remember - fingers were made before chopsticks!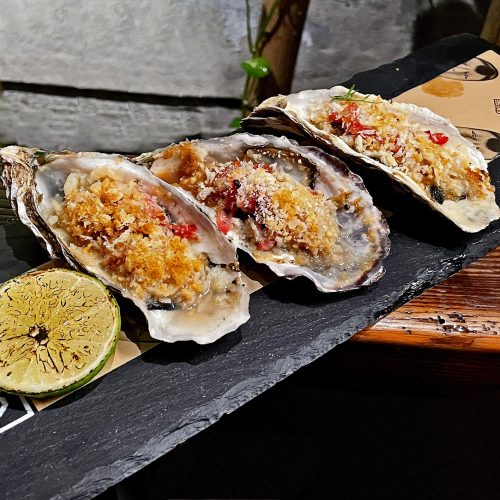 BAKED CRUMBED OYSTERS KILPATRICK
The only thing better than an oyster is a big oyster. Our big oysters are covered with bacon, cheese, Worcestershire sauce & breadcrumbs before being baked in the oven. It's party time for your mouth.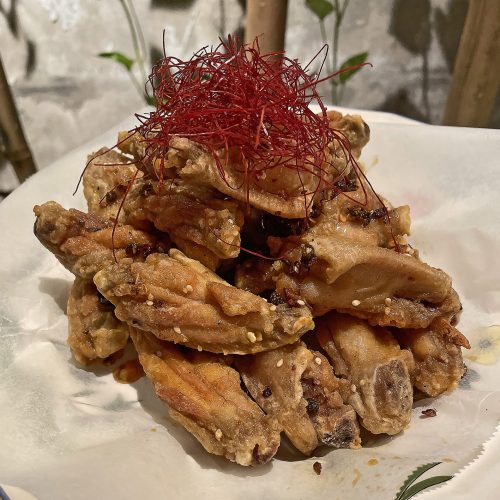 Our Buffalo Wings have already been named as "The Best in Keelung". That's because we deep fry & serve them with our own home made sauces. You can have them Teriyaki style with Blue Cheese Sauce, or with a spicy Sichuan Green Chilli Oil with Red Peppercorns. Both are topped with a pinch of Japanese Chilli Nest. Quite honestly Bad Mama's Buffalo Wings are the most fun your mouth's had since it's first successful kiss.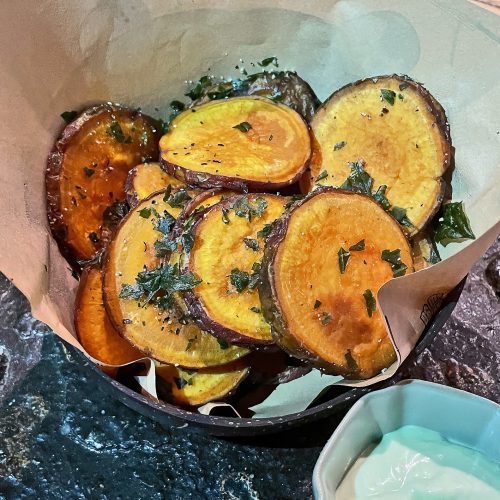 Everybody loves hot chips. We take Sweet Potatoes and deep fry them with fresh Basil, sprinkle them with Sea Salt & serve them with our famous home made Wasabi Mayonnaise. Wow.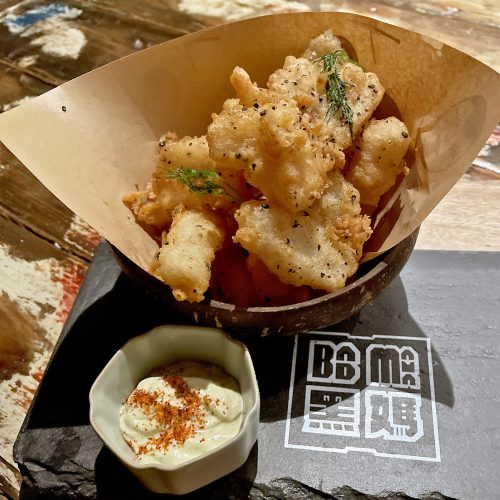 This is quite possibly the most popular snack on our menu. Fresh market Fish is coated in a light Japanese-Style Tempura batter & snap fried with pepper & fresh Dill. Then we serve it in a coconut shell bowl with our home made Yuzu Aioli Sauce. Some guests order a whole bowl to themselves - which is fine by us.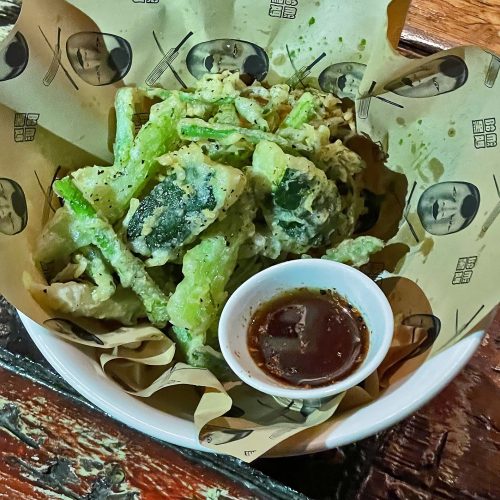 This is the dish for those who love their vegetables fresh, crispy & green - and coated in a Japanese-Style light Tempura Batter, snap fried & served with our home made sauce. It's crunchy Heaven.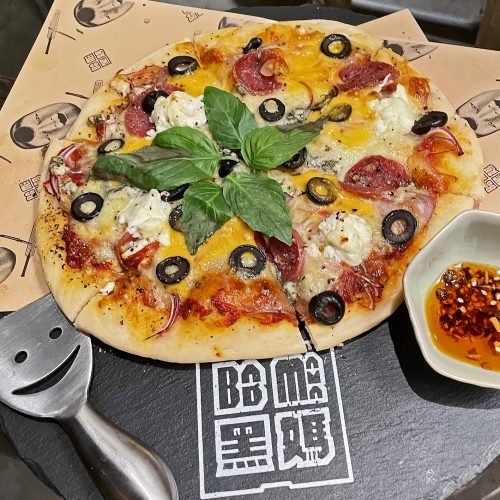 A mixture of Mozzarella Cheese, Goat's Cheese, Camembert Cheese & Blue Cheese is topped with delicious Pistachio Salami, slivered black olives & baked in our oven on a home made crispy pizza base.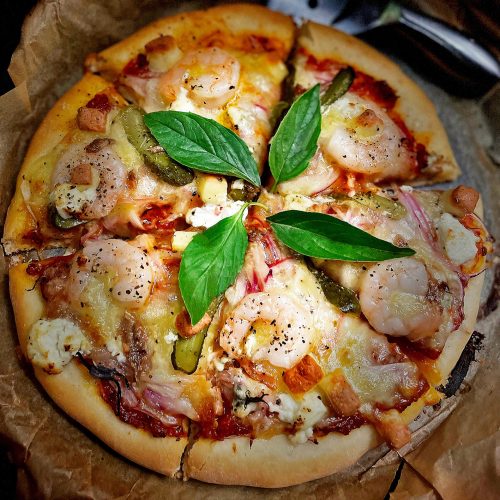 4 different Cheeses + fresh Seafood - including prawns & anchovies. This is a unique combination of tasty cheese & ocean treats all on our home made crispy pizza base.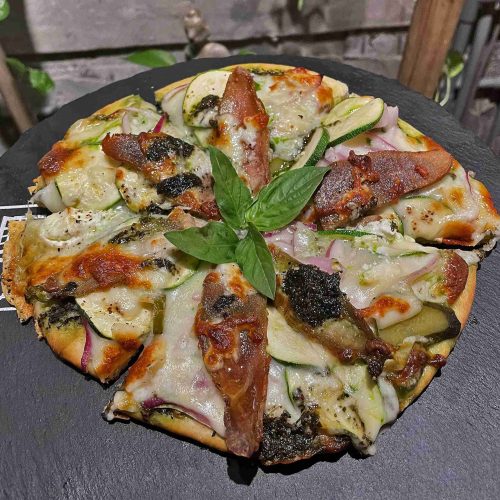 This is a really new taste experience - 4 delicious cheeses combined with slices of BBQ Duck. It's crazy good.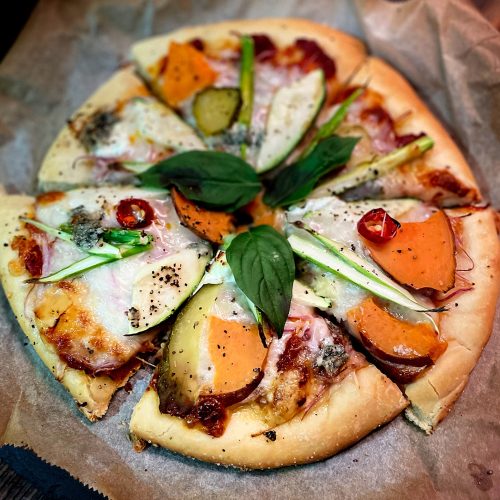 4 CHEESE VEGETARIAN PIZZA
This tasty dish is for those who prefer their pizzas to be meatfree & filled with tasty yummy good stuff.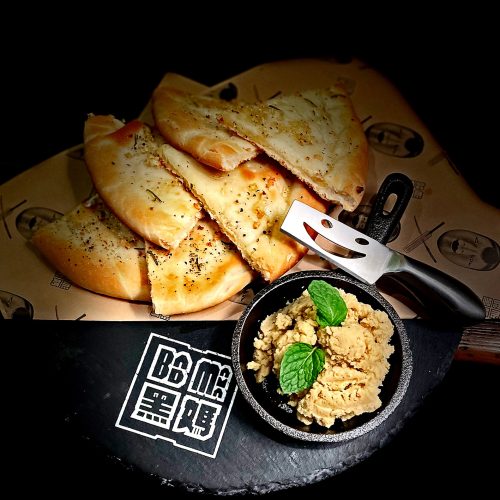 GARLIC CRUST PIZZA WITH HUMMUS DIP
We make our own Hummus - which goes particularly well with our Garlic Crust Pizza, which we drizzle with Gin-infused butter. It's like Garlic Bread - only better!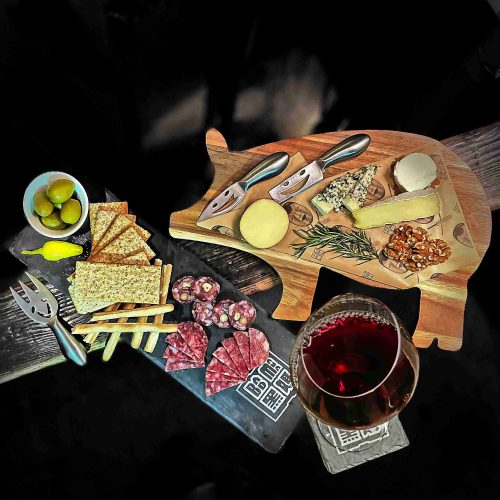 Applewood Smoked Cheddar - England
英國 Ilchester 蘋果木煙燻切達 風味特色蘋果木煙燻切達在1965年誕生於英國一款半硬質起司,有著切達乳酪的濃醇以及 煙燻的香氣, 帶有些許煙燻紅椒粉的辛香風味。質地比大部份切達起司更為柔軟細緻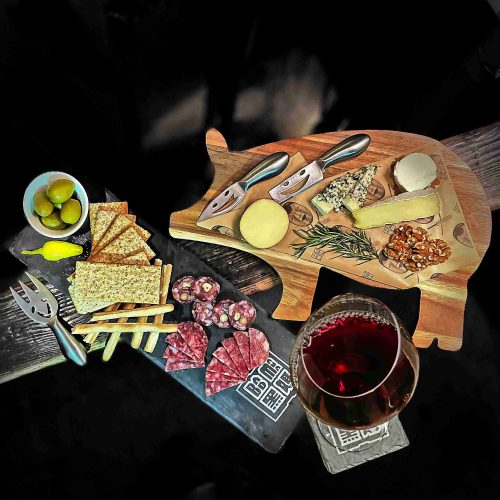 法國 莫貝荷 布利 來自法國北部莫貝荷產區外層白霉風味不重,屬於清爽好入口的布利乳酪內芯為Q軟口感 軟質白起司特色,在於其白色外皮、介於粗粒狀和濃稠綿密之間的質感,以及帶有絕妙的 蘑菇香氣, 隨著乳酪成熟,顏色逐漸變深成為象牙色。一種奶油的濃郁清香和烤核桃的味道撲鼻而來。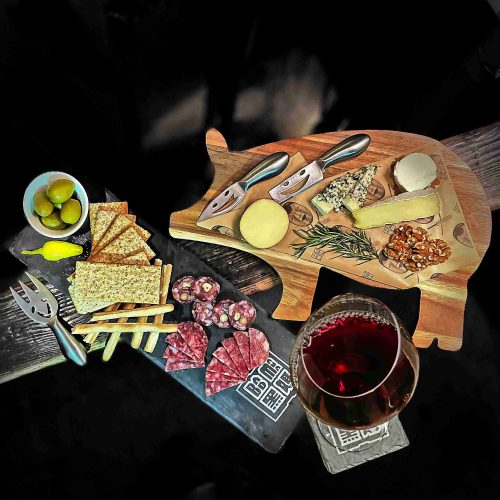 荷蘭 高達起司 熟成3個月 Gouda cheese 溫潤奶香Q彈綿密 - Gouda原產於荷蘭南部的Gouda村, 而遠自12世紀時荷蘭的乳酪已經聞名於整個歐洲了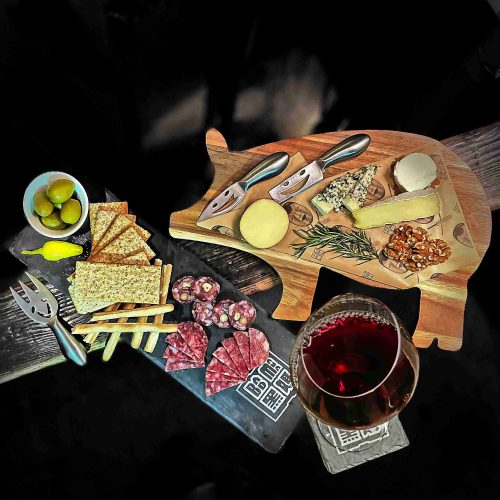 Westland Smoked Cheese - Holland
荷蘭 煙燻乳酪 在荷蘭的高達(Gouda)煙燻乳酪起司,迷人的煙燻味淡淡的卻不搶走乳酪本身的風味, 緊致且綿密的質地, 屬半硬質乳酪,用高達乳酪重新融化攤開,放置在煙燻室中以核桃木、蘋果木低溫煙燻製 成。 香氣豐富帶有明顯的煙燻香味外還有核果、香料、燻鮭魚的氣味。口感紮實、滑順、香 甜。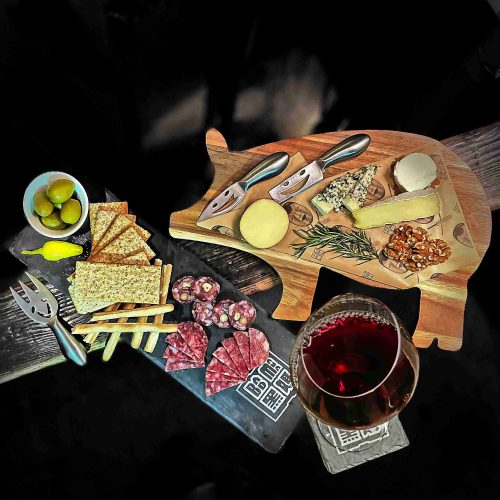 Chavroux Goat Cheese - France
法國 大羊乾酪 新鮮羊乳酪 大羊乳酪風味清甜 質地細緻綿密為新鮮軟質未經過熟成的羊乳酪,水分含量多,口感質 地細緻且綿密, 入口即化,風味清甜,有濃郁的口感卻沒有明顯的羊奶味,具有豐富的營養價值優於牛奶 乳酪。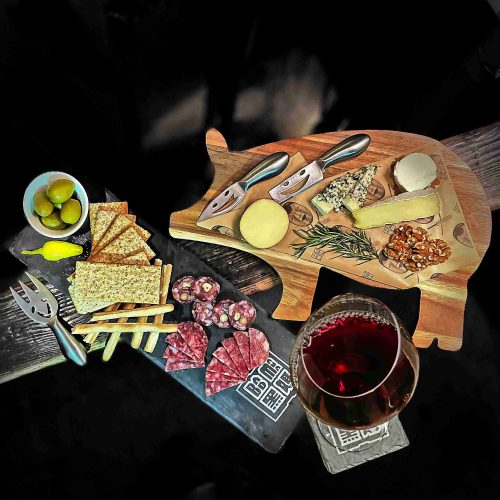 藍紋起司丹麥 起司控必吃這款藍紋起司丹麥 風味整體吃起來鹹甜鹹甜胖貢貢,乳香醇厚 ,緊實且綿密柔軟,不易碎,入口即化, 具有藍黴起司特有的嗆鼻香氣,帶有微微果香與蘑菇氣息。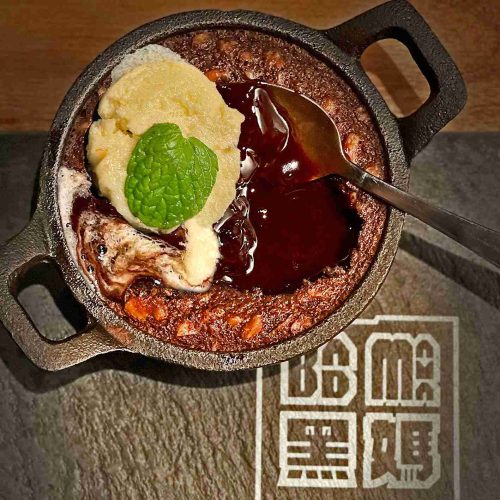 CHOCOLATE GOOEY WITH BRANDY SAUCE
熱熔巧克力白蘭地派 The best chocolate dessert ever. Seriously. Trust me! 有史以來最好的巧克力甜點